Wynne Baptist is honored and overjoyed to partner with Connected Foster Care and Adoptions, a division of Arkansas Baptist Children and Family Ministries, as we seek to build, strengthen, and restore the families in Arkansas to the glory of God. It is a perfect opportunity to love and serve the vulnerable in Wynne and throughout the state. James 1:27 says, "Pure and undefiled religion before our God and Father is this: to look after orphans and widows in their distress…"
Church Driven Foster Care
Church-driven foster care allows us, the local church, to take ownership of foster care in our community. If just 1% of Arkansas Baptists said yes to actively fostering, then 100% of the foster care need in Arkansas would be met. You may not be called to foster or adopt, but we can all do something. Whatever your gifting, talent, or resource, pray and ask the Lord to show you what role you should play in this ministry.
Impact
Engaging in foster care is one of the greatest positive impacts on a community. Because the nature of foster care can be overwhelming, our church has the opportunity to parter together with Connected to support foster and adoptive families by providing practical help such as meals, babysitting, taking care of household needs, prayer, and so much more.
"Whoever welcomes a child in My name, welcomes Me." Mark 9:37
Get Involved
Learn more about each individual way you can serve in the sections below, and fill out the "Connect with Us" Form to contact our WB Connected Champion, Bryanna Irvin, sign up for our email list, or to begin serving.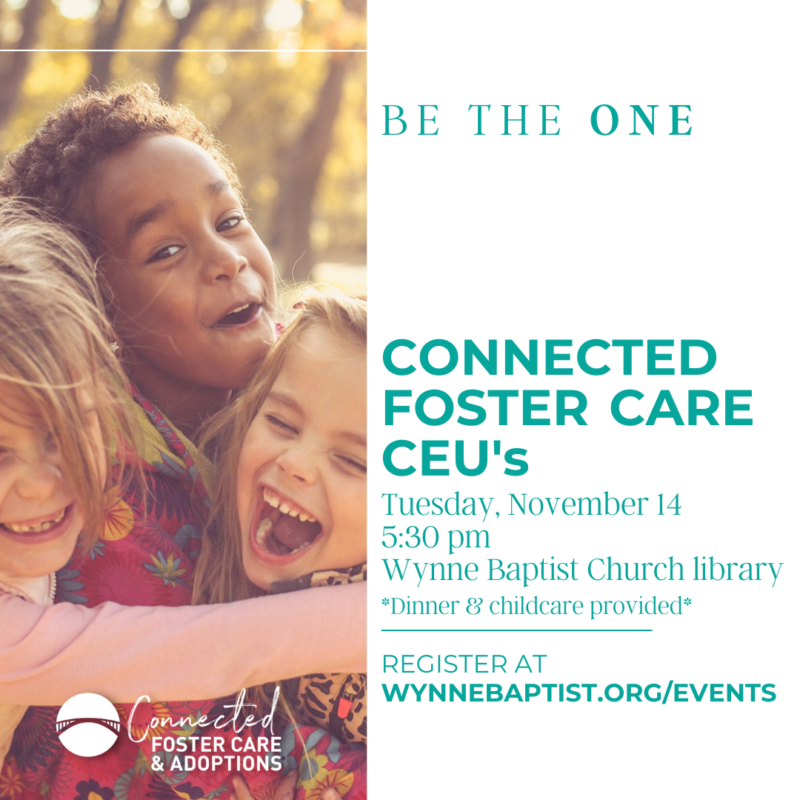 WBfam Connected CEU's
DATE | 2nd Tuesday of each month
TIME | 5:30 to 7:30PM
LOCATION | Wynne Baptist – WBC Library
Area 9 foster and adoptive families! Join us for monthly CEU's meeting the 2nd Tuesday of each month at Wynne Baptist. Childcare
and dinner provided.
WBfam Connected Christmas Party
DATE | Friday, December 8
TIME | 6:00 to 8:00 PM
LOCATION | Wynne Baptist – WBC GYM
You are invited to our Area 9 Connected Christmas Party! We will have dinner, pictures with Santa, inflatables, Polar Express hot cocoa bar and movie theater, and a Santa's Workshop where the children can shop for gifts for their loved ones. Thank you for all you have done to serve the children in your home this year. We are looking forward to loving on you and your family! We will also have a gift for you to take home as you leave.
Frequently Asked Questions
What is the most urgent need for orphan care right now?
Foster care is currently the greatest need we have, specically for teens and sibling sets.
What is the goal in foster care?
The primary goal is working towards reunifying children with their parents and biological families. We believe in the Biblical significance as this is a picture of the reconciliation to the father that we receive through a saving relationship with Jesus Christ. We believe in working alongside and with the parents and their children in such a way that points to a loving relationship with our heavenly Father.
We want to see families reunited and walking in a relationship with Jesus together.
Unfortunately, some cases do not end with reunification. If parental rights are terminated by the state of Arkansas, the case goal then
moves to permanency through adoption. Once exploring familial options, foster families are the next option to move forward with adoption. We walk alongside each family in preparation for adoption and continue to provide trauma-informed training and support
post-adoption. Connected Adoptions is a privately licensed infant adoption placement agency for residents living in Arkansas. We call our adoptive
families "waiting families." Our vision is for waiting families, not waiting children meaning that the placement of children into their forever homes should best "t the needs of the child. "Waiting families" are required to complete trauma-informed training as well as additional adoption classes.
Connect With Us
We look forward to partnering with you in the journey to love and serve children and families here in Northeast Arkansas!